Cryptum ICO Stage II starts in:
Cryptum Stage II Changes - from 1.1 million to 156 000 CRTM, mining project cancelled!

STAGE I FUNDS RAISED: $136000 (15.13 BTC, 148.36 ETH). STAGE I CRTM SOLD: 19776 CRTM
STAGE II: ONGOING
After raising about $136 000 during Stage I, we realized we won't make it to Mining project level of sales even in Stage II. Somewhere during Stage I and we received a sound advice from ICO Rating regarding the project - to devote on the board games. At the end, we made the decision to focus on the two aspects of the ICO that are most important to us: the board games project and the Cryptumcoin currency we are launching in December.
That means any side projects such as icodbase and the mining project are being cancelled, allowing us to concentrate our efforts to the board games and the Cryptumcoin. It also leads to a very important change regarding the total amount of CRTM, as we no longer need to sell so many tokens to get the funding we want - the maximum supply of Cryptum Tokens changes from 1.102 million to a bit over 156 000, with 129 520 available for sale during Stage II of the Cryptum ICO. The Stage II will continue to November 17 or until the tokens are sold, whichever comes first.
What do you achieve with these changes?
For once, we will be working harder on the games and the CRYC currency development, and we will not split the main funding to make a partial investment in a mining farm. This lowers the basic needs of the project to much more manageable levels.
The Cryptum Board Games project does not scale so well over $800 000, forcing us to seek and publish games that we may not want to. While generally this is a good idea, at around 150 000 CRTM we would have lowered the games funding for building the farm, meaning we would have needed higher ICO total funding for the same board games funding.
It also means now we will have the same profits from the games to share among much less potential token owners, and we can distribute more meaningful amounts of Cryptumcoin among the token owners while still keeping the coin pre-mine low.
The Cryptumcoin is being developed as a miner- and trade-centric currency together with Crypto Mining Blog. We want use it in our future games store and as advertisement payment currency in websites we are developing.
Cryptum ICO description:
Cryptum ICO Stage II sale is your last chance to take part in our multi-project ICO (read this article or our Whitepaper for more information) with the following features:
Cryptum Board Games: the Cryptum ICO main goal is funding a board games publishing studio. We will share up to 40% of the profits with token owners by creating a pool that can be claimed based on the number of tokens owned (a percentage from each round). The shared profits are an optional feature accessible via claims. We already started developing three of the games - you can check our Blog and the Info pages in the top menu for more information.
Cryptumcoin ICO: Cryptumcoin is a mineable cryptocurrency we are launching in December 2017. We will distribute up to over 2.5 million CRYC among the ICO participants depending on the total number of Cryptum Tokens sold.
Tiers for free games access with proof-of-ownership tiered access accessible if you own 25, 35, 65 or 100+ CRTM. Every tier gives you the optional right to claim free access to one, more or even all the games we ever publish. We also included worldwide free shipping, with the exception of war zones, countries with civil unrest, or countries that it impossible to deliver to by using posts. Shipping is customs-free for EU, Australia, USA & Canada.
Note that we will ship for free to any country within reason. We obviously cannot ship to warzones, countries with civil unrest or countries that lack normal post infrastructure, or they are located in the most expensive shipping zones (distant islands and so on).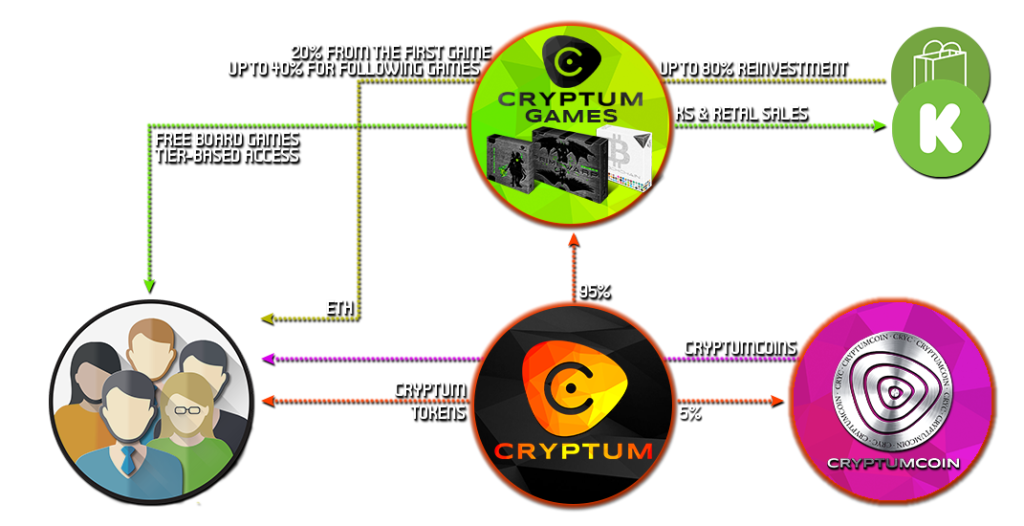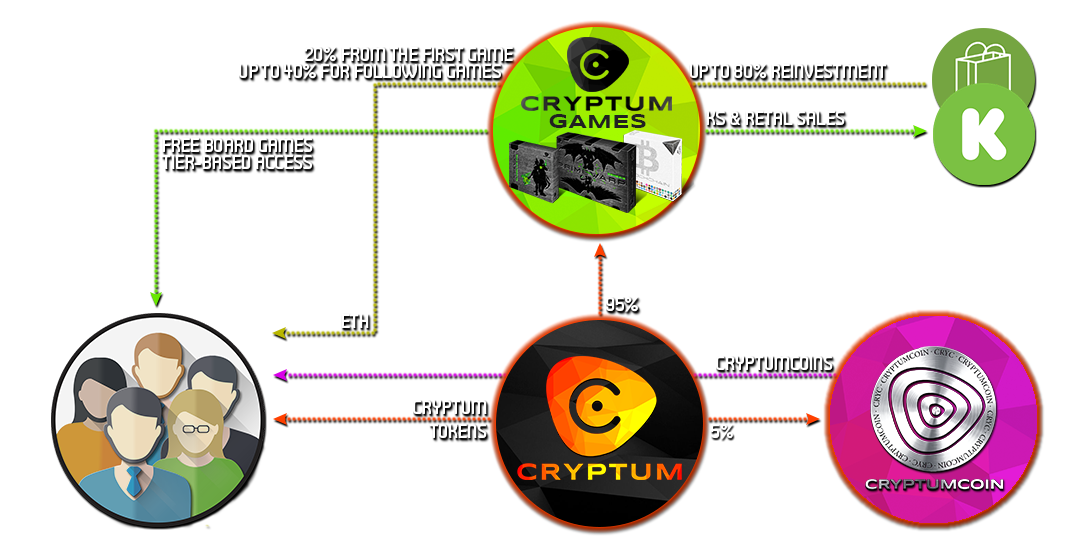 The Cryptum tokens
The Cryptum tokens [CRTM] are basic ERC-20 tokens based on the Ethereum blockchain. CRTM will serve as a proof-of-ownership pass to everything we do, based on the amount owned, so they work both ways – while the funds we raise through their sale are helping us behind the project to develop our long-term business, the token owners gain some unique perks, like completely free tier-based access to one or more games (even all of them) published by Cryptum, shared profits from our projects and initial amounts from the upcoming mineable Cryptumcoin.
While in essence the Cryptum Tokens may be regarded as a direct sale of our future board games, they are also backed by the profits the same games are generating, and, despite the tiers for free access to games, access to the profits is not limited to a single or a series of games - in fact any game we ever publish would be subject to the same profitability terms outlined in our Whitepaper.
The token sale will be completed in two stages:
Stage I Sale that ended on October 16, 2017, raising over $135000 in ETH and BTC.
Stage II Sale from 00:00 UTC on October 17 , 2017, to 00:00 UTC on November 17, 2017, offering additional 129 520 CRTM. The price is based on BTC/USD and can be changed during the campaign. The following currencies are accepted: BTC, ETH, ETC, ZEC, DASH, LTC, BCH, with a minimum amount sold being 25 CRTM.
CRTM tokens are distributed to ETH addresses (post sale). Buyers must use an ERC-20 token compatible wallet, such as (but not limited to) MyEtherWallet, Parity, Mist or Metamask in order to be able to receive and see their Cryptum Tokens.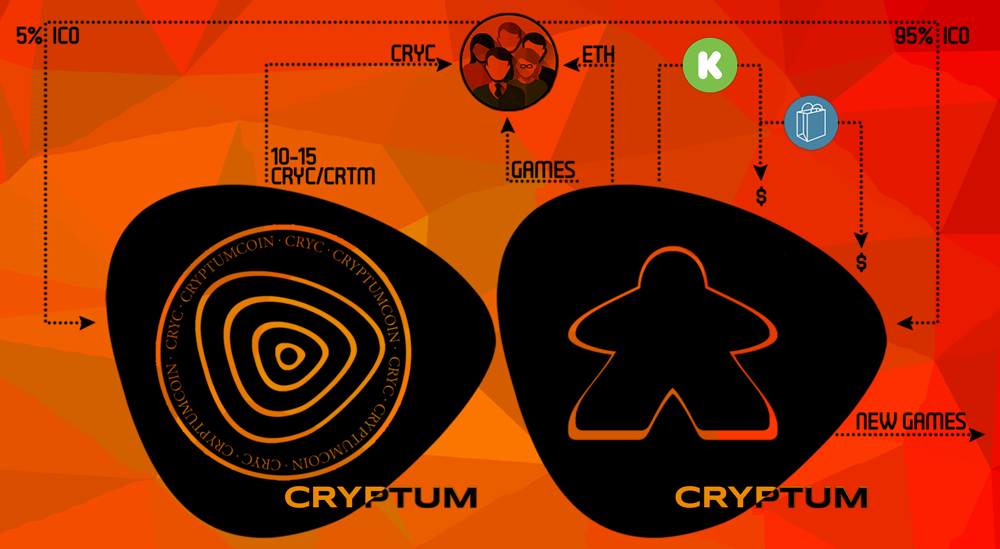 Cryptum Projects
Please note - we are lowering the amount of CRTM sold in Stage II and we are cancelling the mining project and any other additional projects. We will concentrate our effort into games publishing and the development of Cryptumon. Please find more information here.
You can find expanded information in our Whitepaper or by following the links below: